Benefits of a Pre-Listing Home Inspection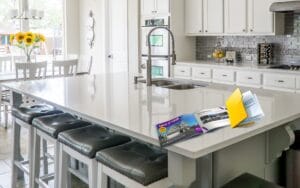 Imagine you're buying a home. You've scheduled four showings with your real estate agent - all in the same area and all with similar criteria. Now imagine one of those homes you saw had a copy of a recent home inspection report on the table with a detailed list of improvements the sellers made, with receipts! How much more would you pay knowing these sellers had taken good care of their home and were serious enough to get a pre-listing home inspection - proof they're proud of the home they're selling and not wanting to stick you with a "lemon."
Home Inspection By Seller - Builds Trust
A pre-listing home inspection is a home inspection the seller pays for before listing the home. Not only is it an excellent way to uncover needed improvements before listing the home, but a pre-listing home inspection can save the sellers money, reduce stress AND help sell a home faster and sell for more by building trust and making the home more marketable.
25% of Sellers Get a Pre-Inspection
In an article on Zillow.com, "Should I Get a Pre-Listing Home Inspection," according to the Zillow Group Consumer Housing Trends Report 2018, 25 percent of sellers get a home inspection before contacting an agent. Of course each property and each situation is unique, and it's important to realize that whatever is uncovered in a property inspection is required to be disclosed - so if a seller is worried about something serious and thinks they're better off not knowing, although the ethics behind that decision could be questionable, it is required to disclose any known issues with the home.  All the more reason why a pre-listing home inspection shows confidence on the sellers' part that they are selling a stellar home - one that stands up to a thorough inspection, or one that the sellers have already updated and repaired all the items revealed in their pre-listing inspection.
How a Pre-Listing Inspection Helps Sells a Home Faster and for More
With the recent lack of inventory in the Cleveland area real estate market many buyers can get nervous in multiple-bid scenarios - which are very common with short supply of homes for sale. However, when a seller has already provided the pre-listing home inspection report, buyers are more confident bidding aggressively. The seller has either made the repairs listed in the inspection, another way a pre-listing inspection saves money, or the seller has secured three quotes for the repairs from reputable contractors, so that the buyers can budget accordingly.
All of these benefits help the buyer feel more comfortable in a multiple-bid scenario, building trust with the transparency provided by the pre-listing home inspection report. In the end, with buyers feeling more comfortable the pre-listing home inspection helps to foster multiple-bid scenarios, driving the price up and speeding up the process.
Call Tri-County Inspections to find out about our inspection discounts and schedule your pre-listing home inspection today.
Related Posts: